Payphones of yesteryear get a new lease on life in New York city as WI-FI hotspots. This interesting program is starting with 10 locations but the hope is to expand it to 12000 locations in all 5 city boroughs.
Since they are using standard WIFI, each access point will cover about 100 feet and will be an incredibly useful feature for tourists.
This effort is being spearheaded by the mayor Bloomberg as part of his NYC Digital Initiative.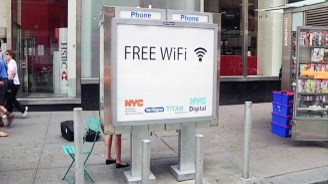 Current locations
MANHATTAN
402 W Broadway near Spring Street
458 7th Ave. near 35th Street
28 West 48th St. between 5th and 6th avenues
1609 Broadway near 49th Street
410 Madison Avenue near 48th Street
1790 Broadway near 58th Street
230 West 95th St. near Broadway
QUEENS
30-94 Steinway St. near 31st Avenue
BROOKLYN
2 Smith Street at Fulton Mall
545 Albee Square at Fulton Mall